Florida Gov. Ron DeSantis (R) drew criticism after he showed scant regard for Centers for Disease Control and Prevention coronavirus safety guidelines at President Donald Trump's campaign rally in Sanford on Monday.
Video going viral shows a maskless DeSantis high-fiving supporters of the president, then rubbing his nose with his hand.
DeSantis was later photographed in the audience laughing with Kimberly Guilfoyle, the Trump campaign official and girlfriend of the president's eldest son Donald Trump Jr. Neither the governor nor Guilfoyle, who tested positive for the coronavirus in July, were wearing masks.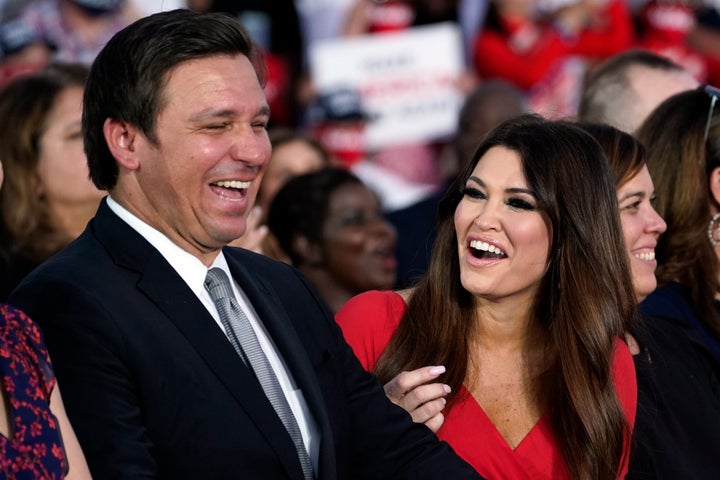 Trump himself also went maskless for the rally, as did many of his supporters who stood shoulder-to-shoulder in the crowd.
The event was the president's first since being hospitalized for three days earlier this month for COVID-19.
"I feel so powerful," Trump exulted at his rally, hours after White House physician Sean Conley claimed the president was no longer infectious to others.
The CDC advises on its website that people avoid close contact with others, avoid touching their eyes, nose and mouth with unwashed hands, and cover their mouth and nose with a mask when around others.
DeSantis, a staunch Trump advocate, has been criticized for delaying the introduction of a statewide lockdown, lifting restrictions prematurely and promising not to reimpose them even as infections climbed. 
His conduct at Monday's rally only heightened people's disapproval:
RELATED…
Get the latest

coronavirus updates here

. 

What will life be like

once a coronavirus vaccine arrives?

Everything you need to know

about face masks

right now.

What should you still be

disinfecting to prevent

COVID-19?

Is it possible

you had coronavirus

earlier this year?

Constantly arguing with your partner about coronavirus risks?

You are not alone.
Everyone deserves accurate information about COVID-19. Support journalism without a paywall — and keep it free for everyone — by becoming a HuffPost member today.
Source: Read Full Article